*** STOP THE PRESS - BOOK OF THE YEAR - STOP THE PRESS ***
Cyber Attack, CyberCrime, CyberWarfare - CyberComplacency:
Is Hollywood's blueprint for Chaos coming true

Click image to read more: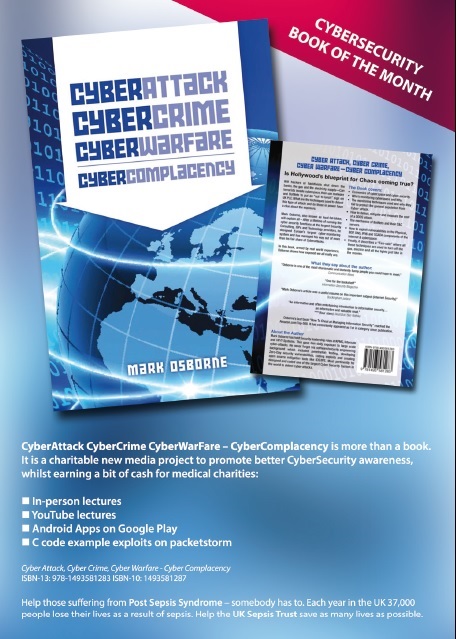 Are you shocked and horrified by the Snowden SNOOPING stories - like children terrified by tall tales of goblins, vampires and warewolves
WHAT should frighten you more is how easy it is to bring our cyber-world crashing down As a computer scientist and a self appointed Security Expert, I felt the need to show the world how fragile CyberSpace is, Show how easy it is to destroy our cyber-world illustrated with real life tangible examples & code & configs, and how little monitoring is done by the government to protect us. And how Snowden endangered us not saved us by his misunderstanding of protective monitoring which reduced it still further in case that a civil servant may gain the same kind of access afforded to our commercial IT depts on a daily basis.
PROFITS GO TO SEPSIS TRUST
*** STOP THE PRESS - BOOK OF THE YEAR 2006 - STOP THE PRESS ***
How to Cheat at Managing Information Security
AS SEEN ON BBC1 TV !!!!!!!
I got a great review on SlashDot - that I am very proud of read it here
And another excellent review from Maccompanion - read it here (page 65)
And from the venerable Gartner
PLUS IN THE AMAZON WORLD WIDE TOP 500 FOR AGES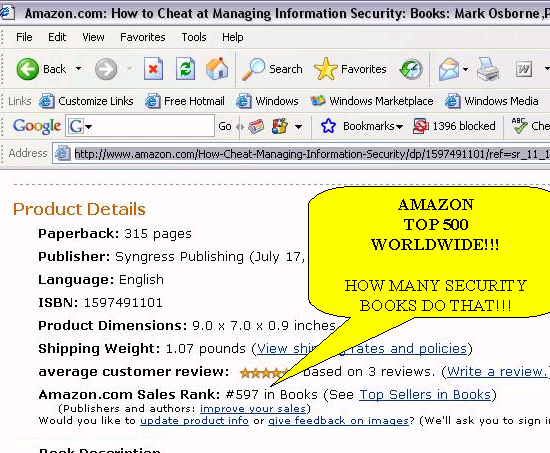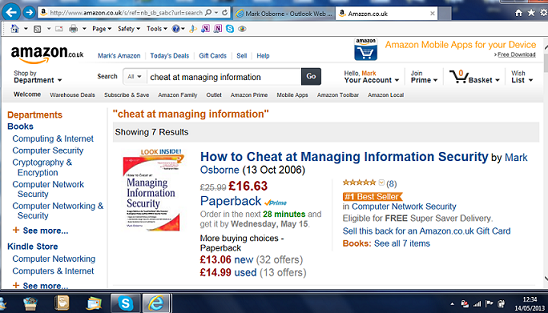 And NEARLY TEN YEARS ON IT IS THE TOP SELLER IN NETWORK SECURITY
And Information Security Magazine said it was definitely "one for the bookshelf" - I think thats a good thing
I wanted to call it the "The Fat Controllers Security Primer" but the publisher said thin people would be offended. So here it is finished - BUY IT BUY IT. I'm going to hold a big party and only people with a copy can come BUY IT - It tells you everything
-- How to design complex Enterprise Security Architectures
-- How to organise your Security department
-- BS7799, ISO17799, ISO27001 and PAS56
--How to survive a security audit
-- How to engage Pentest firms to get maximum value and control
-- How to get your IDS/IPS to work
AND MUCH MUCH MORE
BTW modesty restrains me but if i ever get paid some royalties so will NSPC & PRINCES TRUST
BTW BTW I paid the last 50 quid royalties to www.thedonkeysanctuary.org.uk - hope nobody minds

And with much sorrow and regret, the errata for my book
The design of OBESEUS
The Source
How it performs
The design of Loud Listener
The Source
How it performs
DAWIN Distributed Audit & Wireless Intrusion Notification DA-WIN is:
the end of reliance on a quarterly expensive manual PCI wireless scan
Wireless network black holes
BYOD - Bring Your Own Disaster
It is free in terms of cost - and nearly free in terms of OPEX
WIDZ the first OpenSource wireless IDS
the London Wireless hacker survey
the FATAJACK vulnerability - sometimes known as wlan-killer
Free Training - By The Fat Controller Himself
He's put it about for the last 15years - now he puts a little back
Pre-history security
Articles and presentations
Some good-stuff here including a practical demonstration of 802.11 attacks and IDS avoidence