*** BREAKING NEWS - THE WORLDS MOST ADVANCED CYBER-SECURITY SYSTEM GOES PUBLIC ***
I designed, built it - makes we swell with pride
*** STOP THE PRESS - BOOK OF THE YEAR - STOP THE PRESS ***
How to Cheat at Managing Information Security
AS SEEN ON BBC1 TV !!!!!!!
I got a great review on SlashDot - that I am very proud of read it here
And another excellent review from Maccompanion - read it here (page 65)
And from the venerable Gartner - read it here
PLUS IN THE AMAZON WORLD WIDE TOP 500 FOR AGES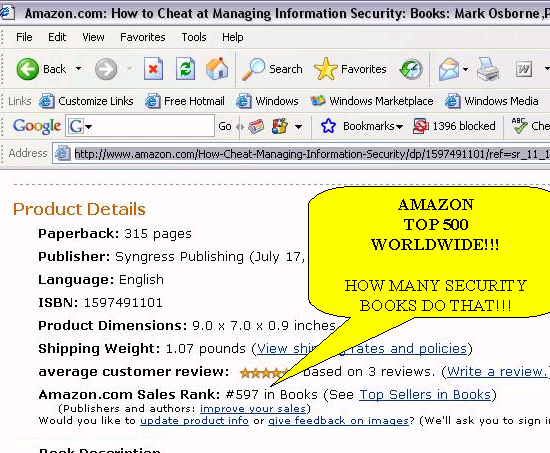 And NEARLY TEN YEARS ON IT IS THE TOP SELLER IN NETWORK SECURITY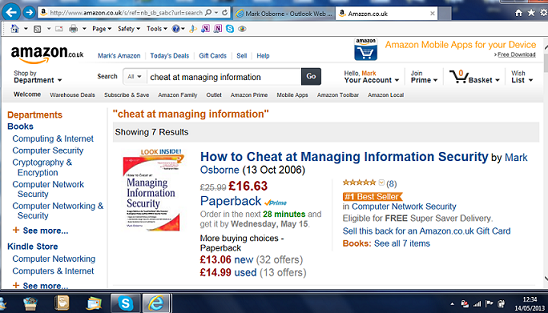 Information Security Magazine said it was definitely "one for the bookshelf" - I think thats a good thing
I wanted to call it the "The Fat Controllers Security Primer" but the publisher said thin people would be offended. So here it is finished - BUY IT BUY IT. I'm going to hold a big party and only people with a copy can come BUY IT - It tells you everything
-- How to design complex Enterprise Security Architectures
-- How to organise your Security department
-- BS7799, ISO17799, ISO27001 and PAS56
--How to survive a security audit
-- How to engage Pentest firms to get maximum value and control
-- How to get your IDS/IPS to work
AND MUCH MUCH MORE
BTW modesty restrains me but if i ever get paid some royalties so will NSPC & PRINCES TRUST
BTW BTW I paid the last 50 quid royalties to www.thedonkeysanctuary.org.uk - hope nobody minds

And with much sorrow and regret, the errata for my book
*** STOP THE PRESS - BOOK OF THE YEAR - STOP THE PRESS ***
The design of OBESEUS
The Source
How it performs
The design of Loud Listener
The Source
How it performs
My 802.11b Security Pages Look for how I designed and wrote:
WIDZ the first OpenSource wireless IDS
the London Wireless hacker survey
the FATAJACK vulnerability - sometimes known as wlan-killer
My second book- By The Fat Controller Himself
The publishers of a famous cartoonist said they might be interested in working with me. Produce a draft and we will sell it to him, they said. I went off to save the planet - Then when I sent it to them - nothing !!!!. You could hear the tumble weed blow by.
Read and Enjoy!!!!
A NOTE TO ANY PUBLISHER OR CARTOONIST - If you can help get this to print - please get in touch!!!!
The Fat Controllers NOT-A-BLOG
Just attention seeking behaviour
Free Training - By The Fat Controller Himself
He's put it about for the last 15years - now he puts a little back
I-am-doh - IDS-Alert-Monitor-Desktop
Use I-AM-Doh to virtually erradicate IDS false positives
Articles and presentations
Some good-stuff here including a practical demonstration of 802.11 attacks and IDS avoidence
Software AND methodologies explaining stuff
Get that all important next position the RIGHT WAY